Earth's Changing Climates
Earth's Changing Climates
Students are introduced to the unanswered question about the future of Earth's climate. They explore data showing temperature changes over the past 120 years and data illustrating climate trends over different time scales. Students evaluate the information the data provide and consider the limitations of conclusions based on the data.
Subjects
Earth Science, Climatology
Image
Global temperature anomalies 2017-2021
This color-coded map in Robinson projection displays global surface temperature anomalies from 2017-2021. Normal temperatures are shown in white. Higher than normal temperatures are shown in red and lower than normal temperatures are shown in blue. Normal temperatures are calculated over the 30 year baseline period 1951-1980. Scale in degrees Fahrenheit.
NASA GODDARD INSTITUTE FOR SPACE STUDIES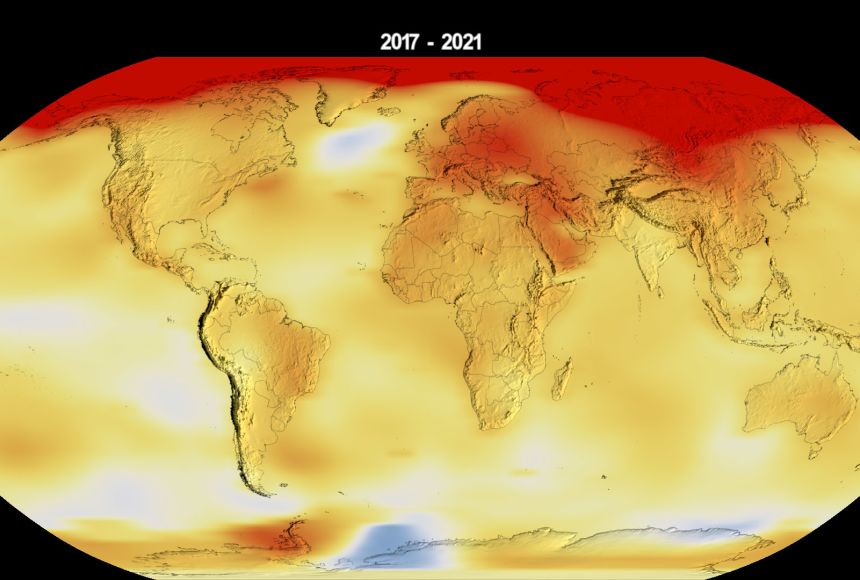 Media Credits
The audio, illustrations, photos, and videos are credited beneath the media asset, except for promotional images, which generally link to another page that contains the media credit. The Rights Holder for media is the person or group credited.
Researchers
Amy Pallant, Principal Investigator, The Concord Consortium, The Concord Consortium
Dr. Hee-Sun Lee, The Concord Consortium, The Concord Consortium
Writers
The Concord Consortium
Sarah Pryputniewicz, The Concord Consortium
Editor
Elaine Larson, National Geographic Society
Copyeditor
Jeannie Evers, Emdash Editing, Emdash Editing
Expert Reviewer
Dr. Mark Chandler, Associate Research Scientist, Goddard Institute for Space Sciences (GISS)/Center for Climate Systems Research (CCSR) at Columbia University, Columbia University
other
Last Updated
September 13, 2023
For information on user permissions, please read our Terms of Service. If you have questions about how to cite anything on our website in your project or classroom presentation, please contact your teacher. They will best know the preferred format. When you reach out to them, you will need the page title, URL, and the date you accessed the resource.
Media
If a media asset is downloadable, a download button appears in the corner of the media viewer. If no button appears, you cannot download or save the media.
Text
Text on this page is printable and can be used according to our Terms of Service.
Interactives
Any interactives on this page can only be played while you are visiting our website. You cannot download interactives.