MapMaker: Antigone canadensis (Sandhill Crane) Migration
MapMaker: Antigone canadensis (Sandhill Crane) Migration
Each year, animals around the world migrate to new habitats to find food, for reproductive reasons, or to avoid harsh winter weather. One species with very clear migration patterns is the sandhill crane (Antigone canadensis ), which travels between the southern United States and the Arctic Circle every year. The range of sandhill cranes during their breeding season, migration, and nonbreeding season are shown in this map layer.
Subjects
Biology, Ecology, Conservation, Geography, Physical Geography, Geographic Information Systems (GIS)
Image
Map by National Geographic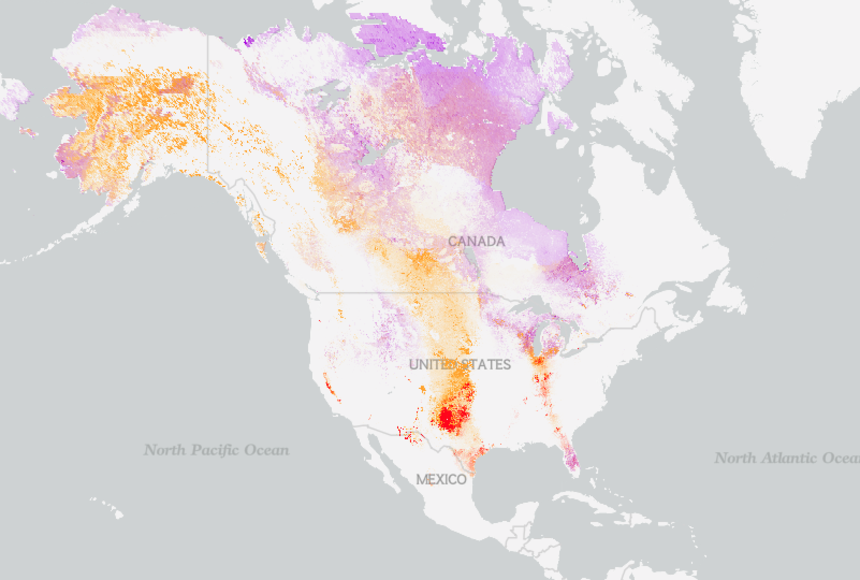 Media Credits
The audio, illustrations, photos, and videos are credited beneath the media asset, except for promotional images, which generally link to another page that contains the media credit. The Rights Holder for media is the person or group credited.
GIS Specialist
Eleanor Horvath, National Geographic Society
Writer
Eleanor Horvath, National Geographic Society
Last Updated
August 29, 2022
For information on user permissions, please read our Terms of Service. If you have questions about how to cite anything on our website in your project or classroom presentation, please contact your teacher. They will best know the preferred format. When you reach out to them, you will need the page title, URL, and the date you accessed the resource.
Media
If a media asset is downloadable, a download button appears in the corner of the media viewer. If no button appears, you cannot download or save the media.
Text
Text on this page is printable and can be used according to our Terms of Service.
Interactives
Any interactives on this page can only be played while you are visiting our website. You cannot download interactives.